Sugar & Spice Doček Nove godine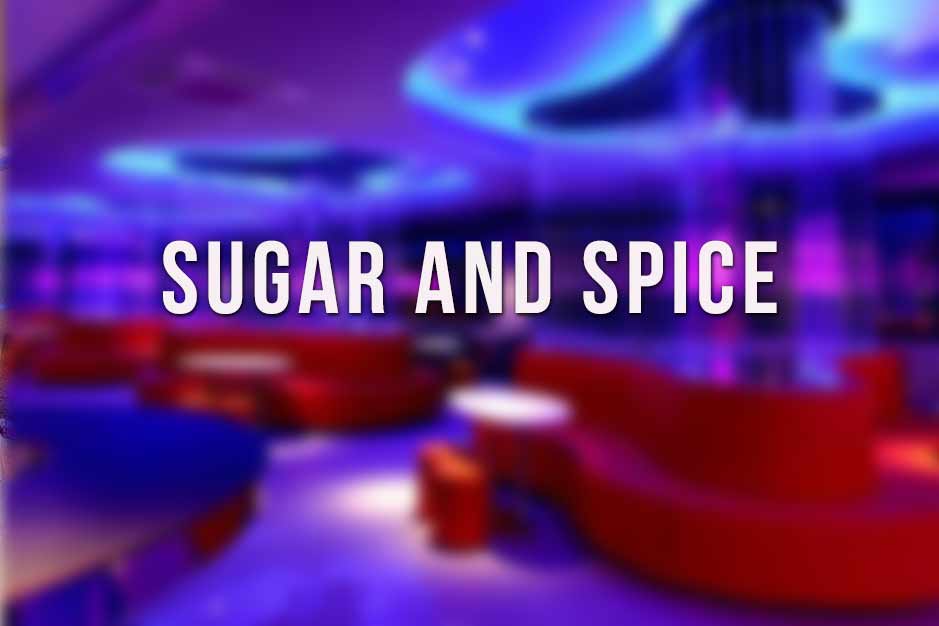 MUZIKA:


JackPot Band & Stefan Rusimović (Fenomenalni energični bend koji poseduje bogato iskustvo stečeno dugogodišnjim nastupima po beogradskim klubovima, proslavama, novim godinama!) – Specijalnost su im hitovi zabavne i narodne muzike. Repertoar od preko 4000 pesama garantuje da će ova energična ekipa zapaliti novogodišnju noć.
DJ Alex Candy (Komercijalni house hitovi) & DJ Inna (Rnb i Latino) .



PIĆE I HRANA:


U cenu ulaznice je uračunata neograničena konzumacija sledećih domaćih i stranih pića :
- Vino Crveno, Belo, Rose
- Pivo Miler i Jelen
- Gin London Dry
- Vodka Keglevich, Fjodor
- Pelinkovac Gorki List
- Italijanski Vermut Bianco
- Tri vrste vrhunskih domaćih rakija
- Mix Pića : Djus vodka, Biter Vodka, Dzin Tonic,
- Negazirani i gazirani sokovi i kisele vode (Coca cola, Next, Knjaz Miloš...)
- Cele noći potpuno besplatno sledeće vrste koktela koje će barmeni praviti samo za Vas (Sex on the beach, Blue lagoon, Cuba libre, Tropical, Tekila sunrise, Gin fizz, Mai tai, Red Passion...)
Bitne informacije:


* Sva pića se služe u staklenim čašama (za viski, za koktele, sokove, vino, šampanjac...)
* Ostala strana pića će se prodavati po promotivnim sniženim cenama! Flaša Johnnie walker i Ballantines viskija, Smirnof, Absolut i Keglevich vodke, Tekile Jose Cuervo 2900din, Jack Daniels i Chivas regal viskija 5500din, Pivo Heineken 199din, Moet 6900din.
* Svaka rezervacija separea dobija gratis jednu ili dve flaše stranog pića po izboru :
- Viski Ballantines, Johnnie Walker
- Vodka Smirnof, Absolut
- Bejllis, Amareto, Cahlua
- Campari, Jegermeister, Martini bianco, Triple sec, Absint
- Belvedere, Grey Goose (Samo u velikom centralnom separeu)
- Jack Daniels, Chivas Regal (Samo u velikom centralnom separeu)
- Moet Šampanjac i jagode (Samo u velikom centralnom separeu)


Hrana: Hladno predjelo i kanapei u Vip separeima.
CENA ULAZNICE:



29 € je promotivna cena ulaznice i ona uključuje neograničenu konzumaciju cele noći pića koja su navedena u ponudi!



Sugar & Spice



New Year's Eve programme





| | |
| --- | --- |
| MUSIC: | JackPot Band & Stefan Rusimović |
| DRINK: | Unlimited consumption |
| PRICE: | Ranging from EUR 29 |
| CONTACT: | +381 69 555 2017 |
New Year's Eve – Sugar & Spice Club in Jugoslavija Hotel! It is said that this is one of the most beautiful clubs in the town, celebrate New Year's Eve with us! Comfortable place of a modern design, presents and unlimited consumption of different beverages and cocktails are just some of the reasons to spend here the wildest night!
Are You Ready For Sugar And Spice New Year Party vol. 3?!
The exterior catches the eye of the selected ones which will have the opportunity to peek into the wonderful world of fun within the latest interior design in the city which occupies more than 650 m2. According to many, the most beautiful club in Belgrade is ready to host again a limited number of guests.
Sugar & Spice is equipped with a professional concert sound system unique in the Balkans, while its lightening system is based on the most popular world clubs. Led screens, mirrors, big modern bar, location (within Jugoslavija Hotel) are reasons to spend here another (3rd in a row) unforgettable New Year's Eve.



MUSIC:



JackPot Band & Stefan Rusimović (a fantastic energetic and highly experienced band which has been giving parties in Belgrade clubs, on various parties and on New Year's Eve celebrations for years!). There are specialized in pop and folk hits. The repertoire of more than 4000 songs guarantees that they will put New Year's Eve on fire.
DJ Alex Candy & DJ Inna



DRINK:




The price includes unlimited consumption of the following local and foreign beverages:
Wine- red, white and rosé;
Beer: Miler, Jelen;
Gin London Dry;
Vodka: Keglevich, Fjodor;
Pelinkovac Gorki list (a wormwood-based bitter liqueur)
Italian Vermouth Bianco
Three exceptional Serbian homemade fruit brandies (domaća rakija)
Mix: juice vodka, bitter vodka, gin tonic
Clear juices, soft drinks and sparkling mineral water (Coca-Cola, Next, Knjaz Miloš…)
The following cocktails are served for free throughout the night (Sex on the Beach, Blue Lagoon, Cuba LIbre, Tropical, Tequila Sunrise, Gin Fizz, Mai Tai, Red Passion)
Note:
All drinks are served in glassware (for whiskey, cocktails, juices, wine, champagne…)
The other foreign drinks will be sold at promotional discount prices! A bottle of Johnnie Walker and Ballantynes Whiskey, Smirnof, Absolut and Keglevich Vodka, Tequila Jose Cuervo for RSD 2,900, Jackie Daniels and Chivas Regal Whiskey for RSD 5,500, Beer Heineken for RSD 199, Moet for RSD 6,900.
For a booth reservation you will get one or two bottles of the following foreign drinks:
- Ballantynes Whiskey, Johnnie Walker
- Vodka Smirnof, Absolut
- Baileys, Amaretto, Cahlua
- Campari, Jagermeister, Martini bianco, Triple sec, Absint
- Belvederem Grey Goose (only in a big central booth)
- Jack Daniels, Chivas Regal (only in a big central booth)
- Moet Chamopagne and strawberries (only in a big central booth)
TICKET PRICE:



EUR 29 which is a promotional price and includes the unlimited consumption of the mentioned beverages throughout the night.
Information and reservations:
RESERVATIONS:




The following prices are related to the extra charge per group and not per person.
Reservation prices:
Stand (2-4 persons) EUR 15;
Bar table (from 4 to 7 persons) EUR 20.
VIP bar table (with bar stools, close to the stage) EUR 35.
Booth: EUR 110 and EUR 150 (one bottle of a foreign drink for free) for 6-7 persons.
VIP booth: EUR 190, for 8-10 persons (one bottle of a foreign drink for free- Johnnie Walker, Ballantynes, Smirnof, Tequila…) + a bottle included in the all-inclusive price (Vodka, Gin, Wine, Pelinkovac, Vermouth, rakija) + a cold starter platter (only for the VIP booth). There are also VIP booths close to the stage at the price of EUR 220 and EUR 250 (take a look at the map).
Premium central booth EUR 280 (two bottles of Chivas, Jack Daniels, Belverde vodka, Moet champagne or similar for free) + a starter platter + strawberries along with the champagne.
Prize trips provided by our general sponsor:
In order not to enter a new year without a present, Party Travel- travel agency (www.partytravel) has prepared two presents/trips for you!
In the first place, we will be giving away 100 vouchers for a free accommodation for three nights on a famous music festival BIG Spring Break in Umag- Croatian, on the Adriatic coast. (You should only pay for the transport or arrange it on your own).
In the second place, we will be giving away 4 vouchers for romantic trips for couples for the following European cities: Prague, Vienna, Venice.
If you are into comfort and modern design, then a New Year's Eve in Sugar & Spice Club is the right one for you!
Event Management Team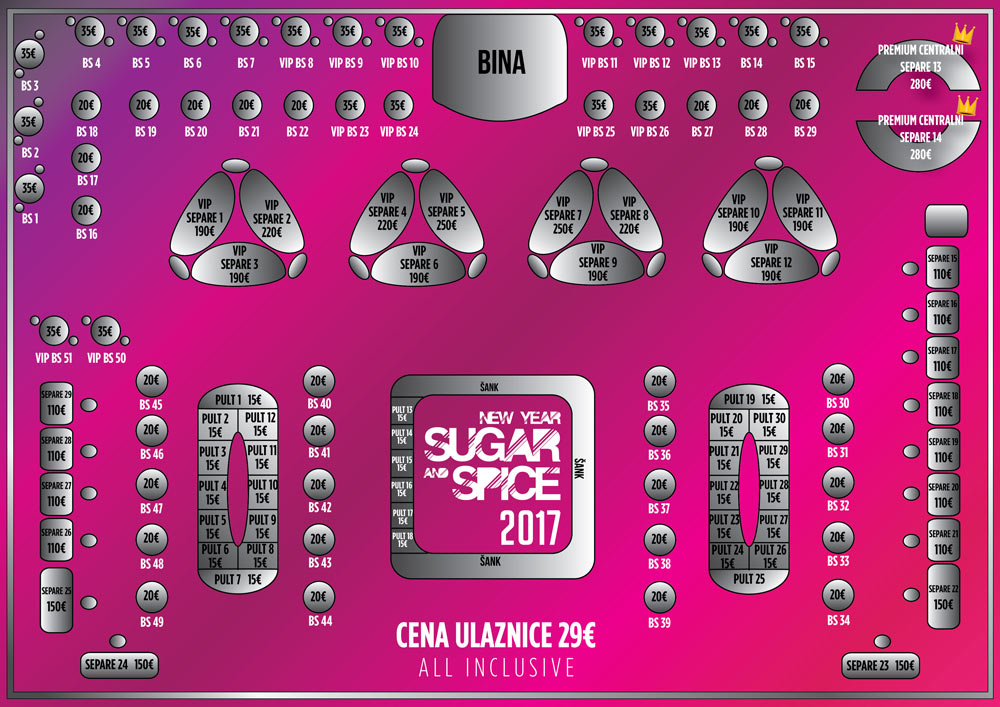 Informacije i rezervacije
Kontakt
069 555 2017
Informacije i rezervacije
Kontakt
069 555 2017