Restoran Grand Ada Nova godina 2017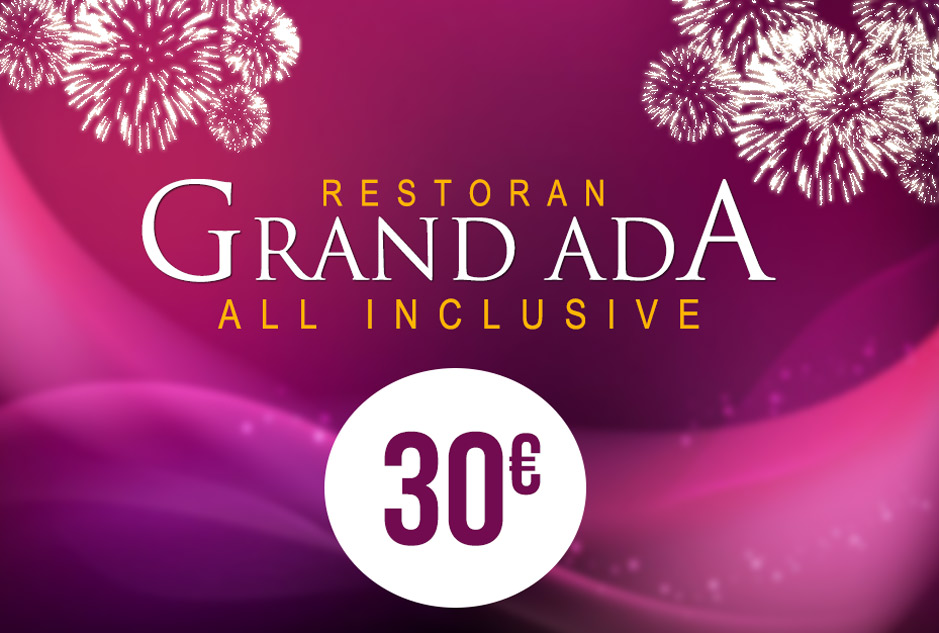 MUZIKA:


Sale Talas + Marija Jovičić i Talas bend





PIĆE:


Neograničena konzumacija domaćeg alkoholnog i bezalkoholnog pića i to:

- Votka,

- Vinjak,

- Vermut,

- Gorki list

- Rakije(šljiva, dunja i kajsija)

- Pivo

- Crveno i belo vino

- Roze

- Bistri i gusti sokovi

- Gazirana i negazirana voda

+ ekskluzivna pića po promotivnim cenama






HRANA:


Komletni meni koji uključuje:

- Hladno predjelo (govedja pršuta, pečenica, kulen, kačkavalj, zlatarski sir, pileća salata, ruska salata, gibanica sa sirom, slani rolat od spanaća)

- Glavno jelo (Punjeni stek Grand Ada i grilovana piletina sa prilozima rižoto sa pečurkama i pekarski krompir)

- Mix zimskih salata


- Dezert – Novogodišnja torta Reforma
CENA:


od 30 € do 70 € (u zavisnosti od pozicije)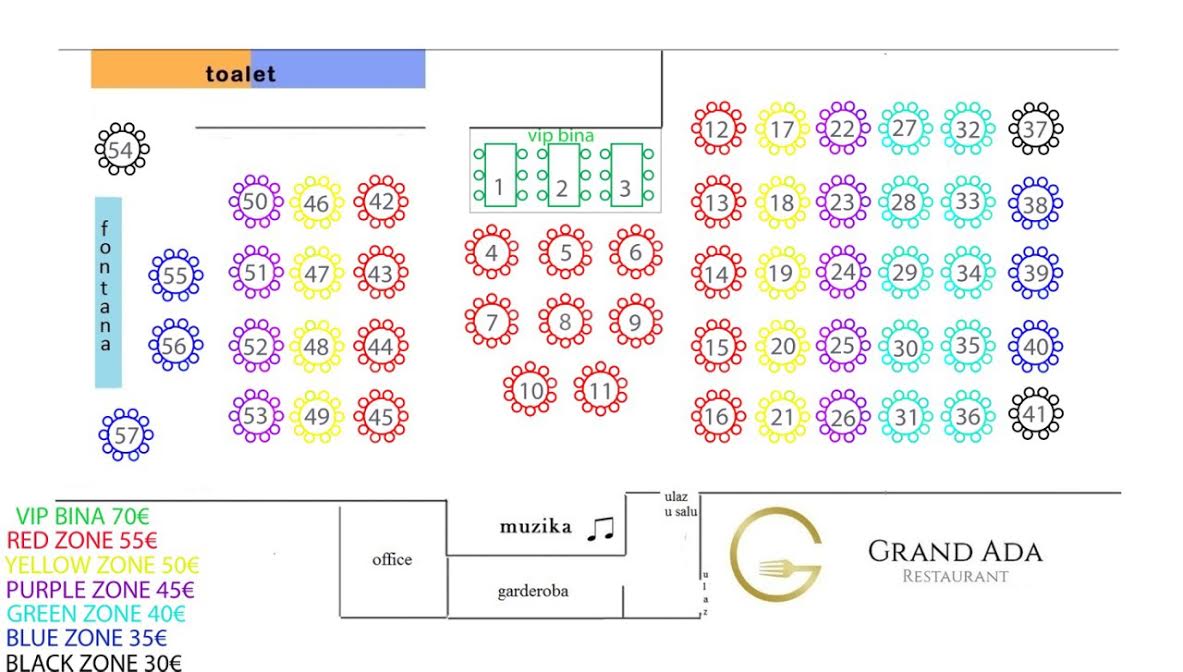 Grand Ada Restaurant




| | |
| --- | --- |
| MUSIC: | Sale Talas i Marija Jovičić |
| DRINK: | Unlimited consumption |
| FOOD: | Full course dinner |
| PRICE: | Ranging from EUR 30 |
| CONTACT: | +381 62 19 29 550 |
New Year's Eve programme
Grand Ada event center is situated approximately 5km from Belgrade downtown on Makis side of Ada Ciganlija lake.
Due to its high quality service, Grand Ada has become known as one of Belgrade's best event spaces for organizing weddings and celebrations, while we are especially proud of the New Year's Eve celebration that is being patiently prepared.
Our event space offers a professional lighting and sound system, ventilation, air conditioning and is fully equipped for a total capacity of about 500 guests. Our multi-checked and courteous staff will do their best so that you could spend a fairy-tale wildest night.
MUSIC:



Sale Talas + Marija Jovičić i Talas bend
DRINK:



Unlimited consumption of the local alcoholic and non-alcoholic beverages, namely:

Vodka
Vinjak, Serbian brandy
Vermouth
Gorki list, Serbian wormwood based bitter liqueur
Rakija- Serbian fruit brandy (plum, quince, apricot)
Beer
Red and white wine
Rosé wine
Clear and nectar thickened juices
Sparkling and natural mineral water
+exclusive drinks at promotional prices
FOOD:



A complete menu which includes:
Cold starters (beef smoked ham, cold cuts, kulen- a flavored sausage, yellow cheese, Zlatar white semi-hard homemade cheese, chicken salad, Russian salad, gibanica- a traditional cheese pastry, salty rolls with spinach)
Main course (Grand Ada stuffed steak and grilled chicken with mushroom risotto and baked potatoes)
- Mixed winter salad
- Dessert- New Year's Reform Cake
PRICE:



Ranging from 30 to 70 EUR (depending on where you choose to be seated)
If you have any further questions, please do not hesitate to contact us.
Informacije i rezervacije
Kontakt
062/19-29-550
Informacije i rezervacije
Kontakt
062/19-29-550